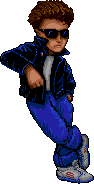 Welcome to Kid Chameleon Wiki
The comprehensive encyclopedia for Kid Chameleon
268 articles and 1,931 images uploaded since February 2008
Stage 1 • Stage 2 • Stage 3 • Stage 4
Big News
On August 7, 2020, PsychoMantis610 beat the world record highscore in Kid Chameleon by 60 points, with a grand total of 1,817,061. The previous record stood for over four and a half years. He also set a new record in the No 100K Trip highscore category just half a month prior, earning 1,537,240 points. Now with both top positions on the leaderboard, PsychoMantis sets his sights on getting into some of the speedrun challenges this game has to offer. We wish him the best of luck in his future endeavors!
News archive.
Featured Level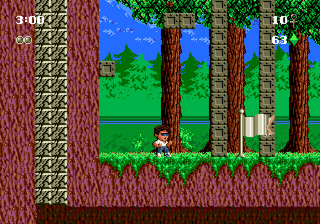 The Whispering Woods 2
is a
Woods
-themed level in the
second stage
of Kid Chameleon. If you haven't visited this level yet, take a look at the crazy map you'd have to navigate through below. This level is pretty unique in that it presents beginning players with three challenges at once: dodging an army of
enemies
, instant-death
platforms
, and running out of
time
!


This is where many players will see the
Armadillo
for the first time, and it takes a while getting used to their charging attack. You'll probably lose a lot of
hit points
but don't worry, there's plenty of
Iron Knight
HP refills... except many of them are hidden in disguised
prize blocks
. This means you'll spend a lot of time jumping around, but be careful cause now you have to worry about TIME! As you hurry to complete the level, you come up to the instant-death platform section. At this point in the game, you haven't had much practice dealing with platforms like this: one wrong step and you're flattened like a pancake! As luck would have it, the only clock in the level can be found just past this section.



So is there an easier approach to this level? Well turns out, this rather trying level has one major flaw: the simple column of
steel blocks
between you and the
flag
at the very start of the level. That's right, if you start this level as
Berzerker
, simply charge that wall to the right and the level is done in under a second! This is most easily accomplished by arriving here through
Elsewhere 5
, making sure to get that Berzerker helmet and not to lose it.

Prizes:
See the featured level archive.
Featured Project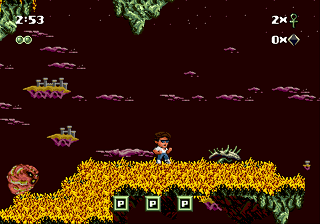 Kid Chameleon 3: The Final Marathon, AKA KC3
Drios, who entered the Kid Chameleon ROM hacking scene big with his first project Heady Metal's Revenge, has yet another challenge for us - Kid Chameleon 3: The Final Marathon. It is his second mod with completely redesigned levels that aims to emulate the style of the original, sprinkled with some added challenge for more experienced players.
And that's one thing that can't be understated: this hack is HARD. Don't expect to breeze through it on your first playthrough, cause you're gonna be in for a helluva ride when those stage 4 levels roll up. If you thought the original game had a convoluted map and insane dead-end elsewheres, KC3's will surely have your head spinning. That being said, Drios is very generous to those adventurers who explore the path less traveled, so check every nook and cranny to get all the lives you can! Visually, this mod boasts many new theme, character, and enemy color palettes courtesy of Drios, including a bloodstained Maniaxe, and some lava-themed island levels. It is also the first complete mod to use original boss and platform patterns -- you might even see them move in a circular path at some points! Download Kid Chameleon 3: The Final Marathon.
Palace of Maahes

What secrets do these lions guard within?

Elsewhere 19

Fly through a long cave of spikes as Cyclone to find the solution to this mazey level!

Range of the Wild Beasts 2

Get ready for a huge enemy massacre with your choice of Red Stealth, Berzerker, Maniaxe, or Juggernaut!
See the featured project archive.
Helping Out